Shopping Cart
Your Cart is Empty
There was an error with PayPal
Click here to try again
Thank you for your business!
You should be receiving an order confirmation from Paypal shortly.
Exit Shopping Cart
THAMES ESTUARY & ESSEX BOAT CHARTERS
Copyright © 2010 - 2022 Dawn Tide Charters All Rights Reserved

| | |
| --- | --- |
| Posted on March 2, 2020 at 8:49 AM | |
Start of march 
Headed out fishing after going back afloat on the 26/2/20
we had to fish inshore on the 27/2/20 due to strong winds but never the less was the inshore fishing was fantastic with over 40+ rays boated to 12lb
The ray numbers will rocket over the next 5-6 weeks so enjoy it while its here!
last season the Hounds and Bass arrived end of march so not long at all!!! the water temp is 7.5c at the moment so i personally think its all going to happen early the is season if the inshore fishing is this busy the offshore fishing should be very very busy nows time to start getting back out after a long winter its only going to get better and better now 
next walk on spaces coming up are 
4th 6th 10th 12th march 
keep an eye on my Facebook for live video streams and updates but i will update this site at the end of every week   
call 07523488290  
| | |
| --- | --- |
| Posted on May 30, 2017 at 4:40 PM | |
may 2017
fishing is at its peak now stacks of skate still to 14lb
hound fishing is kicking of nicely biggest 17lb so far crab bait is a must fir these fish
the bass fishing is still good lug worm doing the business on the bass 
mackerel starting to show and tope as well we have lots of off shore plaice and turbot trips coming up bookings very busy need to book at least 8 week in advance for prime dates mid week dates more flexible call skipper mark peters on 07523488290
follow us on facebook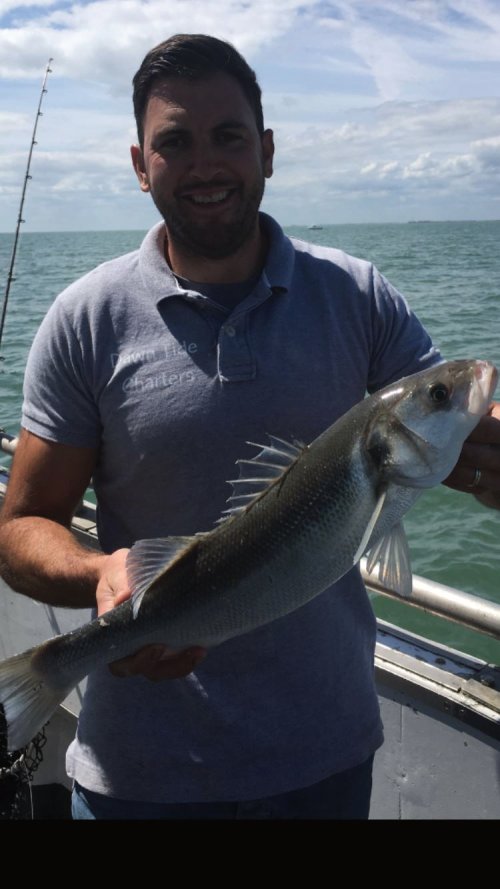 | | |
| --- | --- |
| Posted on February 25, 2016 at 4:28 AM | |
FEBUARY 2016
THE COD ARE STILL THIN ON THE GROUNDS BUT SHOUD START RETURNING FOR THE SPRING RUN AND THEY WILL BE A NICE SIZE AS THER WHER 5 T0 8LB AT THE START OF WINTER SO THEY WILL OF FATTENED UP A BIT MORE. SKATE ARE IN HUGE NUBERS ALREADY UP TO 16LB AND ITS NOT EVEN SKATE SEASON YET FEW SPURDOGS SHOWING BIT FURTHER OFF AND NOT LONG UNTILL SPRING FISH ALL TURN UP WETHER HAS SETTLED NOW SO WE ARE BACK OUT THER CALENDAR GETTING BUSY BOOK IN ADVANCE RECOMMENDED
MARK PETERS
click the link below for a video of a trip in the last few weeks 
https://youtu.be/RoZWriVV0qY
| | |
| --- | --- |
| Posted on August 7, 2012 at 3:59 AM | |
We have been seeing some very good fishing with the good tides latley getting plenty of hounds up to the 16lb around 20 a trip if you target them. Bass plenty of small ones on the banks along with some very nice size ones 5llb to 8 lb when we fish the deep wrecks. Skate are still showing on the fresh mackerel chunks plenty of mackerel to be had still getting small tope here and ther for the big ones we have had a few breaks ups so ther still around got some tope trips comming up so fingers crossed.
FEEL FREE TO HAVE A LOOK AT THE GALLERY AND THE REPORTS OR GIVE US A CALL DAWN TIDE CHARTERS 07523488290 
/