Shopping Cart
Your Cart is Empty
There was an error with PayPal
Click here to try again
Thank you for your business!
You should be receiving an order confirmation from Paypal shortly.
Exit Shopping Cart
THAMES ESTUARY & ESSEX BOAT CHARTERS
Copyright © 2010 - 2022 Dawn Tide Charters All Rights Reserved

| | |
| --- | --- |
| Posted on May 17, 2020 at 4:25 PM | |
Hi everyone hope you are all well 
Just a quick update the charter industry is still battling with operating restrictions and finical buisness support, 
On a positive since boating and fishing is allowed during semi lockdown i decided to nip out a few times with my family. 
fishings good had plenty good size bass, hounds and skate about il let the pictures do the talking.
The weekend just gone was my twins 5th birthday took them on a family lockdown fishing trip it was really good sport for them non stop smallish skate and hounds inshore, keeping them busy just what we all needed a day out on the water great memories who knows they may become skippers one day.
please keep and eye out for when lockdown gets lifted and get booked on asap as my diary is all over the place with 3 months of trips being shifted about so please bare with me il do my best to get everyone afloat hopefully not to long now!!
hope to see you all soon Stay safe everyone 
mark peters 
| | |
| --- | --- |
| Posted on June 12, 2018 at 8:29 AM | |
JUNE 2018
TOPE !!!
The Tope have turned up with a bang at last ! last week saw over 20 Tope come aboard Dawn Tide II biggest was 48lb followed by 42lb 40lb 35lb 27lb 21lb 18lb 16lb and lots of around 6-10lb good fun and good sport proper fish and a proper fight ! all fish come on the fresh mackerel that have also turned up also good fun and a killer bait live ones getting the 2 biggest fish !! Plenty of time to fish for these call 075234882890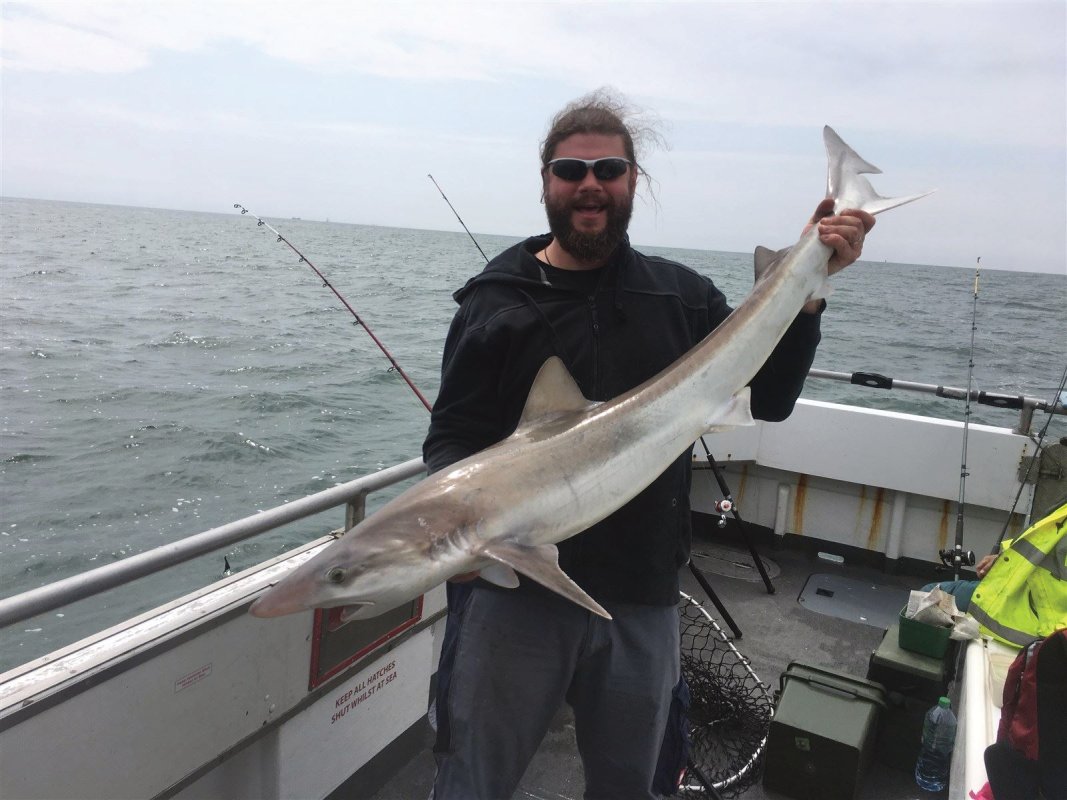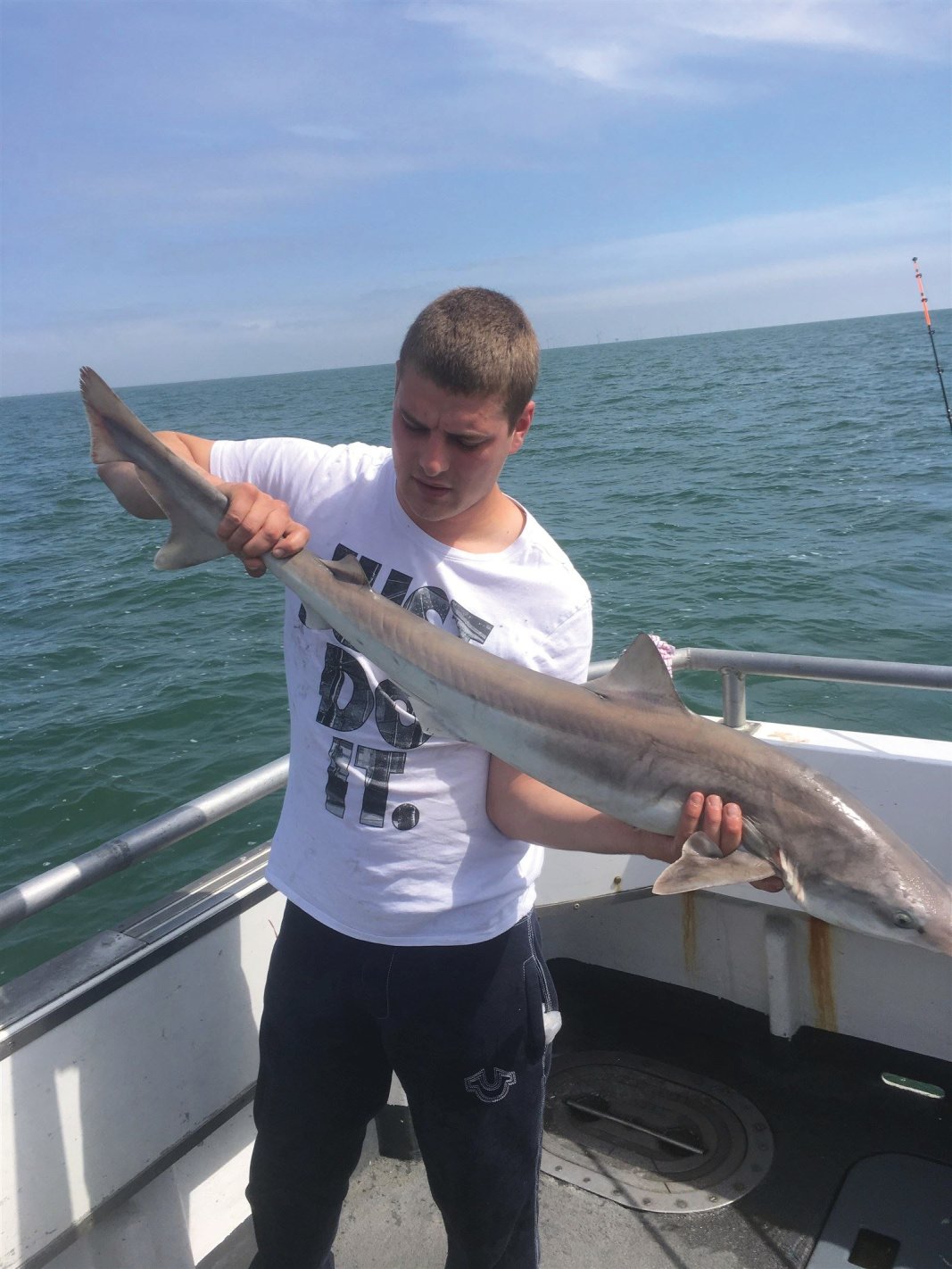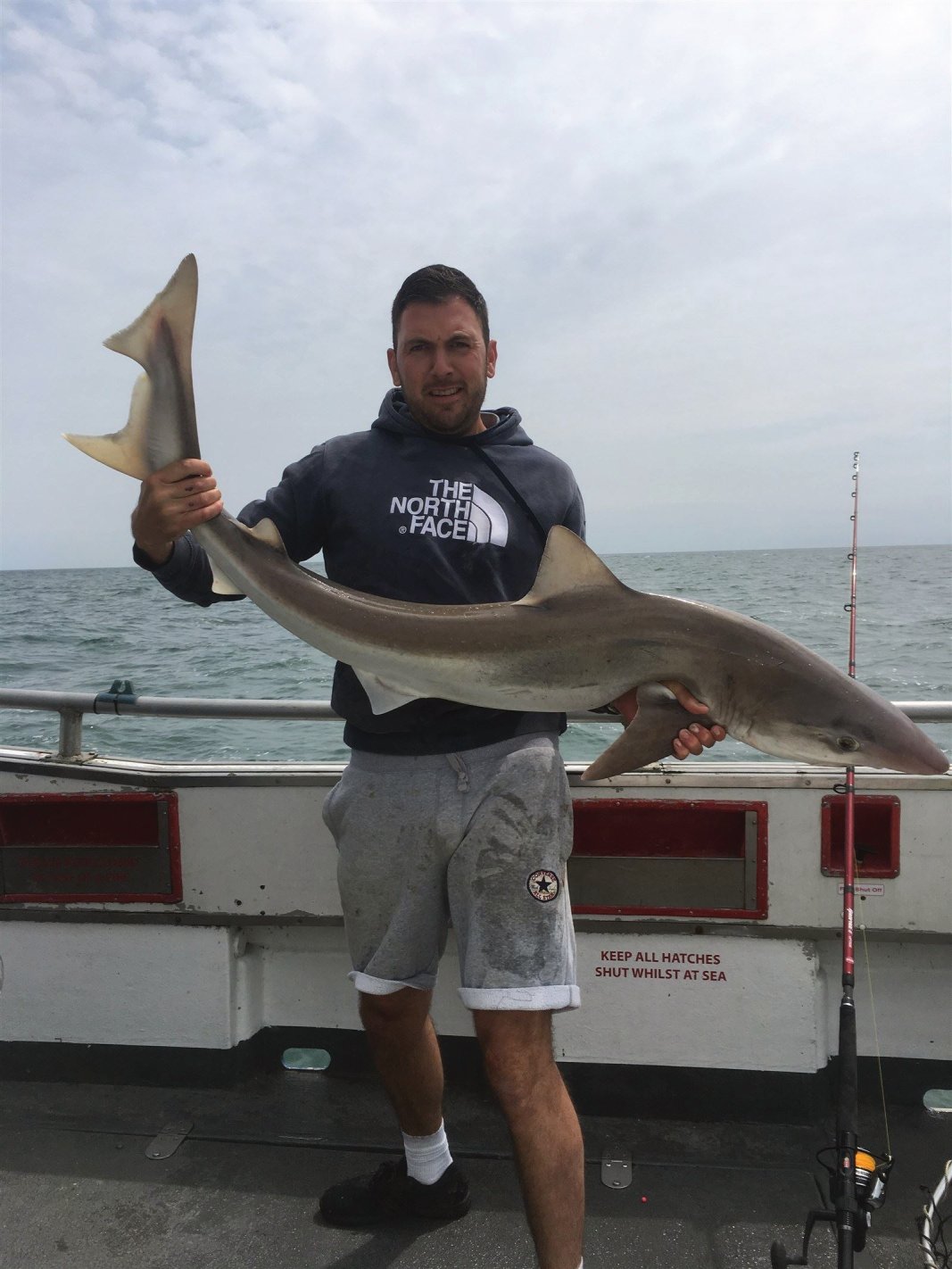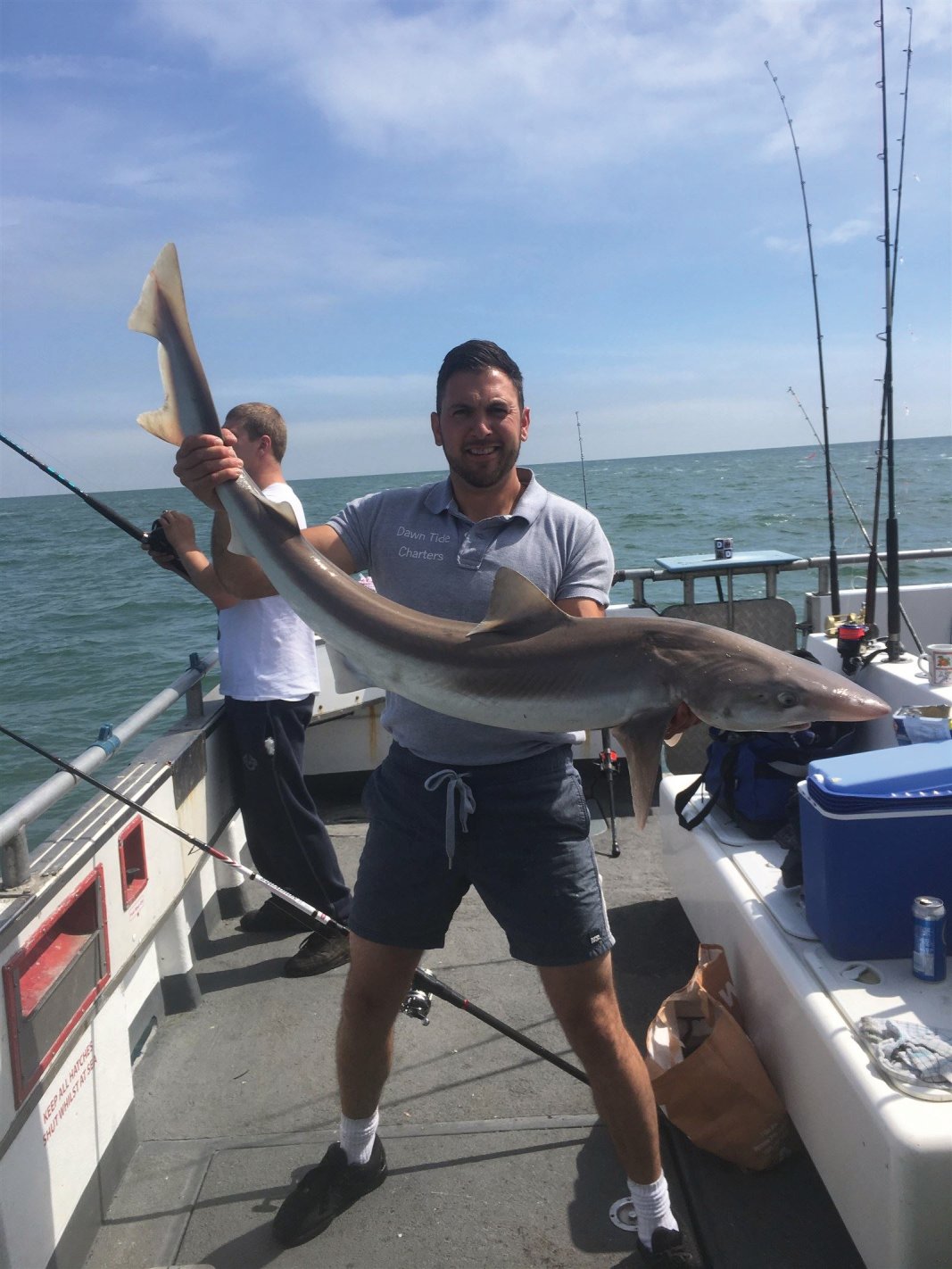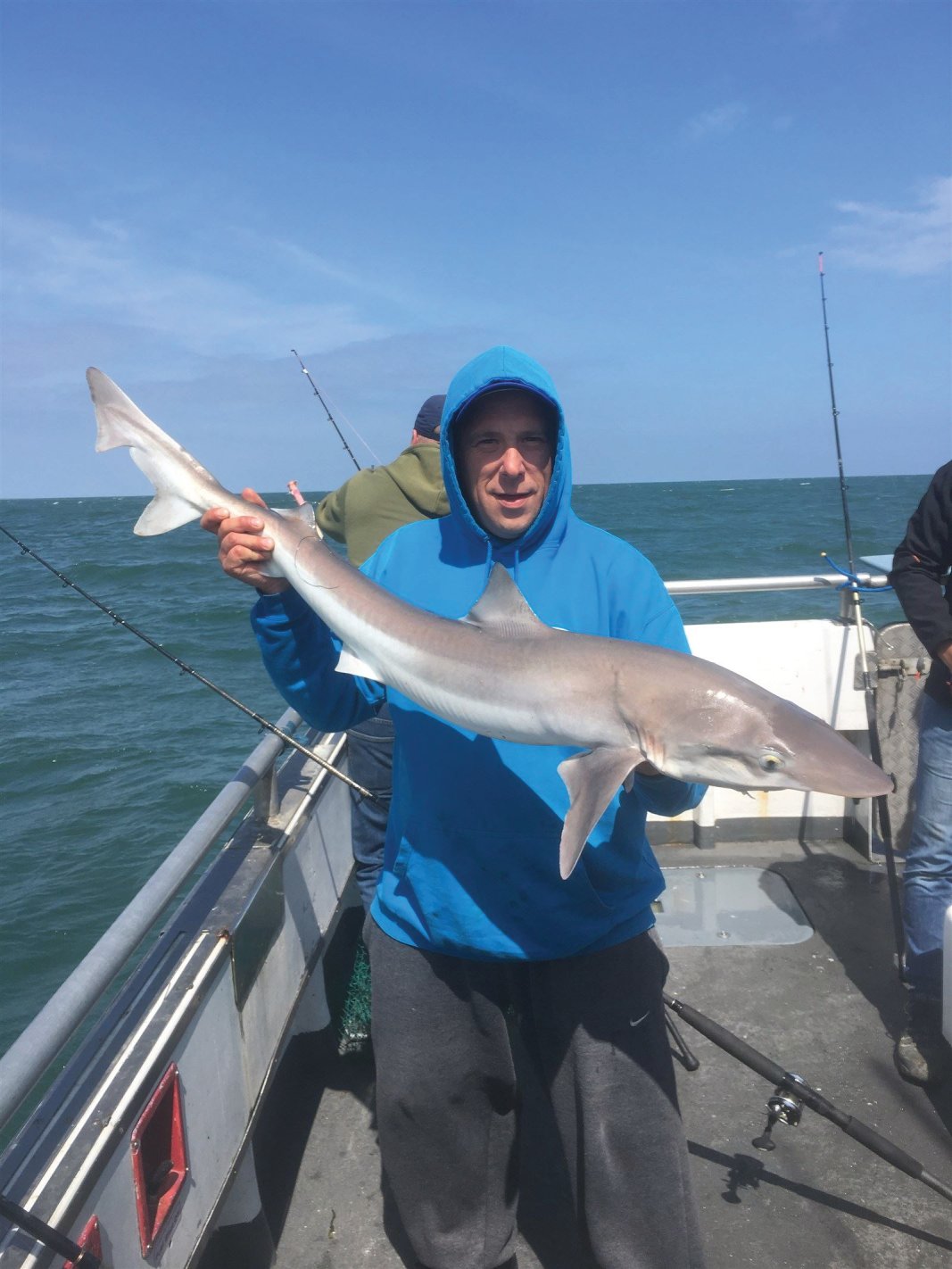 | | |
| --- | --- |
| Posted on May 8, 2018 at 4:05 AM | |
MAY BANK HOLIDAY FUN !!!!! 

As always May is fishing its nuts off again one of the best months for our area !!! don't be one of them guys who waits for others do the hard work and have a good day then try book up 1 you will find it hard to get availability while the fish are running at that time 2 thats whats been caught not what your going to catch please just get booked in in advance to enjoy !!
There are lots of plaice offshore to 3 lb with mackerel and gurnards and plenty of other species its very good fun call for details !!!
inshore the bigger bass are here as per usual if you know where to look this time of year good sport several had over the bank holiday from 5 -8lb nice fishing and numbers will increase over next few weeks. Still plenty of rays if  want them they are slowly thinning its still plenty  the hounds have hit with force yesterday saw well over 50 boated no monsters yet but they are not far away mackerel and tope to follow asap !!!! 
follow me on all social media platforms for regular reports spaces and pictures and videos daily  

pictures below of some of the bank holiday weekends catch 
| | |
| --- | --- |
| Posted on November 11, 2012 at 1:31 PM | |
COD COD COD thats all i got to say fishing very very well 20 plus cod a trip
| | |
| --- | --- |
| Posted on August 27, 2012 at 12:37 PM | |
August
August hs showed some very good Bass fishing some trips getting 35 a trip from small scoolies to 6 lb most being had on red gills or feathers biggers ones uptiding on mackerel crabs or lug. The hound fishing is nice and steady getting around 20 to 30 a trip if you target them with the hermit crab on a good tide. The skate fishing is still a bit patchy having 1 or 2 a trip im sure if you went looking for them with herring you could load up, mackerel dog fish whiting and flattys still showing in good numbers too. The fishing has been very good with many rebookings  
/